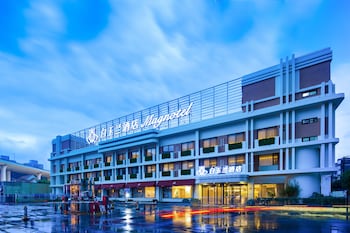 Jinjiang Inn
274 hotels worldwide
Search through over 274 hotels of Jinjiang Inn
Discover upcoming deals in all hotels of Jinjiang Inn
About Jinjiang Inn
Jinjiang Inn is one of the most recognised hotel chains in China, with more than 100 hotels in more than 70 cities across the country. The hotels in this chain are ideally appointed for business travellers and tourists alike, who are accustomed to having a premium experience and a high quality of service. Certain hotels, close to places of interest, have standard amenities included in the price. Thanks to strategic alliances with other tourism companies, guests have access to promotions and special discounts for flights, car rental and tours.
Cities where Jinjiang Inn is found
Jinjiang Inn is present in 129 cities around the world
Show more cities
Loading hotels, please wait a moment...
Error while loading the map, please refresh the page and try again.
Select the number of rooms and guests.
Please select the number of rooms and persons who are traveling and complete the age of the children.
Adults Children Children ages
Please specify the age of children, in fields in red. (from 1 to 17)