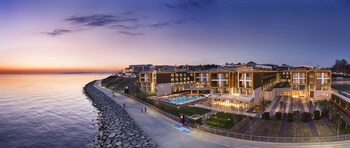 Crowne Plaza
400 hotels worldwide
Search through over 400 hotels of Crowne Plaza
Discover upcoming deals in all hotels of Crowne Plaza
About Crowne Plaza
Crowne Plaza is a hotel chain with hotels in over 300 cities worldwide. The rooms of these hotels are specially designed to provide services to business travelers who need services like internet access, work spaces, meeting centers among others. Leisure travelers also have at their disposal a wide range of facilities to make their stay as pleasant as possible such as golf courses, tennis courts, pool, gym and spa.
The guests who are part of the loyalty program of Crowne Plaza can enjoy discounts on their next online reservation on ebooking.com and free nights for being a frequent customer.
Cities where Crowne Plaza is found
Crowne Plaza is present in 322 cities around the world
Show more cities
Loading hotels, please wait a moment...
Error while loading the map, please refresh the page and try again.
Select the number of rooms and guests.
Please select the number of rooms and persons who are traveling and complete the age of the children.
Adults Children Children ages
Please specify the age of children, in fields in red. (from 1 to 17)