Find the best deals in Zaventem
3.000.000+ hotels, apartments, villas and more…
More than 3.000.000 accommodations
Hotels, Apartments, Vacation Homes, Villas...
Book without any prepayment
No surcharges or hidden costs
No eBooking.com cancellation fee
Cancel or modify your reservation without additional charges according to establishment
Crowne Plaza Brussels Airport
Da Vincilaan 4
Avg. price/night: 118 EUR
Luxury
Sheraton Brussels Airport Hotel
Brussels National Airport
Avg. price/night: 88 EUR
Luxury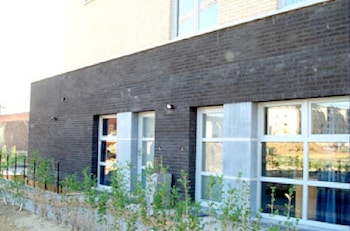 Business Flats Brussels Airport
Hoogstraat 5 C
Avg. price/night: 82 EUR
Hobbit Hotel Zaventem  
JOZEF VAN DAMSTRAAT 85
Avg. price/night: 86 EUR
Campanile Hotel Brussels - Airport
Excelsiorlaan 2
Avg. price/night: 50 EUR
9 Things to Visit in Zaventem
Zaventem is a municipality in the Flemish Brabant Province of Belgium. It is part of the Green Belt made up of a group of localities surrounding Brussels, the capital. The official language is Dutch.
This suburb is home to Brussels International Airport, awarded in 2005 as the Best Airport in Europe; it was also the epicenter of the last terrorist attack on the Belgians in 2016. However, today it continues to be one of the most efficient and secure terminals on the continent.
Therefore, there are many things to do in this locality. You can spend a few hours exploring its sights, including museums, churches and historical buildings with architecture worth admiring.
The gastronomic offers will never be lacking in this city, so your foodie side will be satisfied.
We'll show you everything below.
The Municipal Building of Zaventem
All visitors agree that one of the most interesting facades in the city is the Municipal Building, formerly called Feldheim Villa. Located in the middle of the forest of Seventenlo, it is an ancient and beautiful Villa belonging to a wealthy family of the 20th century. The place is worthy of very good pictures, so get ready for a selfie.
The Church of San Martín
Belgium is a country known for its religious structures, so when visiting Zaventem we recommend that you pay attention to the Church of St. Martin, a Romantic building built in 1567. As a curious fact... we must note that inside you can find the masterpiece of the painter Anthony Van Dyck "Saint Martin and the Beggar", which dates back to 1621. Definitely a very interesting place that you should not miss.
The Mariadal Castle
Mariadal Castle and Municipal Park was built at the end of the 19th century. This building functions as a cultural center and is a splendid place to interact with the locals. You will be delighted by the unique features of Belgian architecture.
El Molino Stockmans: Transformed into a Restaurant
One of the things you will enjoy in this municipality is to see the restorations of ancient buildings turned into extraordinary places for recreation. Therefore, when visiting the town we recommend visiting the Stockmans Mill, built in the 13th century.
Today the building has been restored and functions as a famous hamburger restaurant... that is delightful, with a local touch, and is waiting for you.
The History Museum of Zaventem
The Zaventem Local History Museum is a nice place to learn a little about the economic and social culture of this important region. It has many exhibitions on agriculture, industrial development and the First World War, thus ensuring many learning without leaving aside the fun. It is a good place for a quick and inexpensive visit when you are passing through the town.
The Herdenkings Monument, Culture and Nature
On the way to Zaventem Airport you will find a beautiful garden built after the terrorist attacks in 2016. The place is crowned with a beautiful sculpture, symbol of non-violence. It is a place that invites reflection and recreation.
Virtual Reality Center: Family Entertainment in Zaventem
Virtual reality is making its way into the world of video game fans. If you're one of them, Zaventem offers you a Virtual Reality Center so you can enjoy the best entertainment possible.
It is a great place to go with friends and enjoy everything; the staff is very friendly and the games are from another world. This visit is not wasted.
Tribute to Hergé: The Dream of the Creator of the Adventures of Tintin
One of the figures that attract your attention inside the airport is a fun rocket ready for visitors. As a fun fact we note that this monument is a tribute to the comic book artist Georges Prosper Remi (Hergé) creator of the cartoon " The Adventures of Tintin ". Don't forget a selfie! To immortalize your trip to the land of comics.
Gastronomy in Zaventem: Taste the Best Chocolates in the World
The best thing you can do anywhere in Belgium is to try their world-famous chocolates. In Zaventem, as it is not a common tourist destination, you will find many chocolate shops with great prices that will not affect your pocket!
A pleasure you have to give yourself is to try the Praline, typical Belgian chocolate that will leave you breathless. Not to mention the chocolate sculptures they offer you in different establishments: they are wonderful! for the sight and for your palate.
Accompany a rich bonbon with waffles, delicious crispy waffles covered in chocolate and fruit... A dream, originally from Belgium, ready to satisfy all fans of dessert!
Hotels in the world's top cities