Find the best deals in Salou
3.000.000+ hotels, apartments, villas and more…
More than 3.000.000 accommodations
Hotels, Apartments, Vacation Homes, Villas...
Book without any prepayment
No surcharges or hidden costs
No eBooking.com cancellation fee
Cancel or modify your reservation without additional charges according to establishment
La Siesta Salou Camping Resort
C/ Del Nord 37
Avg. price/night: 969 EUR
H10 Salauris Palace
Av. Països Catalans, s/n
Avg. price/night: 190 EUR
Luxury
Aparthotel CYE Holiday Centre
C. París, 21 
Avg. price/night: 197 EUR
Casablanca Playa Hotel & Suites
Passeig de Miramar, 12
Avg. price/night: 59 EUR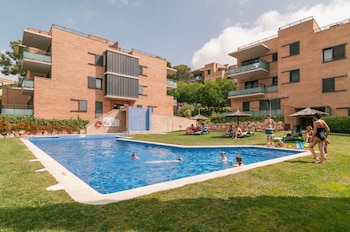 Pierre & Vacances Residence Salou
Avenida Pompeu Fabra, n 25
Avg. price/night: 238 EUR
Marinada Apts
Carrer De Fra Juniper Serra,3
Avg. price/night: 82 EUR
Blaumar Hotel Salou
C/ Joan Miarnau Ciurana, 4 Paseo Jaime I s/n
Avg. price/night: 146 EUR
Luxury
Dorada Palace
Carrer del Camí de les Pasquales 6
Avg. price/night: 166 EUR
Luxury
Sol Costa Daurada
Avda Paisos Catalans S/n
Avg. price/night: 149 EUR
Luxury
Magnolia Hotel Salou - Adults Only
C/ Madrid 8
Avg. price/night: 178 EUR
Luxury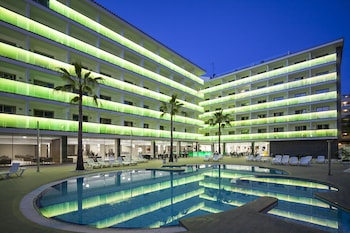 Hotel Best San Francisco
C/ Amposta, 5
Avg. price/night: 142 EUR
Luxury
Hotel Estival Park
Carrer Del Cami Del Raco,15
Avg. price/night: 152 EUR
Salou: 3 Essential Places
Salou is the main tourist destination of the Costa Dorada in Catalonia, especially known for having the Port Aventura theme park, good beaches and a great development in hospitality services that have turned the city into a destination that, especially in the summer campaign, attracts thousands of tourists from all over Europe.
Enjoy on the Beaches of Salou
Salou has several beaches as Levante Beach, Poniente, Chaplains, Playa Larga and some coves in Cabo Salou. The largest of all, most frequented and known is Levante Beach. This large beach of 1.2 kilometers long has a large space of fine and golden san. On its promenade you will find numerous restaurants, leisure areas, sports facilities and at one end the marina of Salou.
Port Aventura: Fun for the Whole Family
Since it opened its doors in 1995, Port Aventura has become the main tourist engine of Salou. This large theme park, one of the largest in Europe, has areas set in Polynesia, Far West, Mexico or China among others. Port Aventura offers visitors more than 30 attractions, from some for the little ones or more familiar to spectacular internationally renowned attractions such as Dragon Khan, Stampida, Hurakan Condor or Shambhala, considered one of the best roller coasters of its kind in the world.
Port Aventura also has a water park called Costa Caribe Aquatic Park, with more than 15 attractions, highlighting King Khajuna, the largest water slide in Europe.
From 2016 the resort features a new large theme park set in the world of Ferrari.
Clubs and Bars: Enjoy Nightclub and Bars in Salou
Salou also stands out for its nightlife, at night the city is transformed and numerous discos open their doors. Most of these places are located on Avenida Jaume I and its surroundings, streets that both day and night tend to have a great activity thanks to the shops and entertainment venues. Some of the best known nightclubs are Nikita, Monkey Room, Flash Back or Cool Down Crocs.
Know the History of the City
Salou is located just 10 kilometers from Tarragona and has a long history, as it is estimated that its foundation was around the sixth century a.C. by the greeks. For centuries it was an important strategic port and had great relevance in the area's trade until the beginning of the nineteenth century, when Salou started a process of transformation to focus on tourism.
Tour the City on Board the Local Transportation System
Salou currently has a remarkable transport system with long and short distance buses, connections in a few minutes with high-speed trains and the airports of Reus and Barcelona which are about 15 minutes and an hour away respectively..
Its good transport system is combined with a complete network of hotels and services that guarantee tourists everything they need for a the best summer ever.
Hotels in the world's top cities