Find the best deals in Madrid
3.000.000+ hotels, apartments, villas and more…
More than 3.000.000 accommodations
Hotels, Apartments, Vacation Homes, Villas...
Book without any prepayment
No surcharges or hidden costs
No eBooking.com cancellation fee
Cancel or modify your reservation without additional charges according to establishment
Relais & Châteaux Hotel Orfila
Calle de Orfila, 6
Avg. price/night: 294 EUR
Luxury
Only YOU Boutique Hotel
Calle Barquillo, 21
Avg. price/night: 222 EUR
Luxury
Gran Melia Palacio de los Duques-Leading Hotels of the World
Cuesta de Santo Domingo, 5
Avg. price/night: 566 EUR
Luxury
ICON Wipton by Petit Palace
Calle de Jorge Juan, 17
Avg. price/night: 175 EUR
Luxury
WooTravelling Atocha 107 HOMTELS
Calle Atocha N 107
Avg. price/night: 1010 EUR
Luxury
Ok Hostel Madrid
Calle Juanelo, 24
Avg. price/night: 83 EUR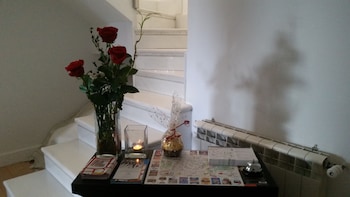 SYTB&B Luxury Bed & Breakfast
Avenida de Burgos 50
Artiem Madrid
Calle de Juan Perez Zuniga, 20
Avg. price/night: 125 EUR
Luxury
Sungate One
Calle del Carmen 16
Avg. price/night: 19 EUR
The Pavilions Madrid Hotel
C/ Amador de los Ríos, 3
Luxury
Occidental Castellana Norte
Avenida de Manoteras, 20
Avg. price/night: 113 EUR
Luxury
Hostal Go Inn Madrid
Calle Montera 47, 7 Izquierda
Avg. price/night: 31 EUR
Things to See in Madrid: 6 Most Important Places
Madrid is the capital city of Spain and one of the main tourist destinations in Europe. Many tourists are driven here not only by its numerous attractions but also by its lively nightlife which takes place in certain parts of the city with fun and music to suit all tastes. Another interesting activity is to visit the bars and restaurants where you can enjoy the delicious food with its tapas and typical dishes such as Madrid's cocido, madrileño corns, squid sandwiches or potato omelette.
Visit the Puerta del Sol, a must-see place
It is the best known square in Madrid and a must-see place for every tourist. This place in addition to being a regular meeting point for Madrileños, has also several points of interest such as the statue of the bear and the strawberry tree, the Clock of the Casa de Correos and the Kilometer Zero. It is common to find many tourists taking pictures in the square to have a memory of their passing through Madrid.
Walk through the Immense Plaza Mayor
It is a place that is located a few steps from Puerta del Sol. This square is surrounded by ancient historic buildings such as Casa de la Bakería, which stands out for the decoration of its façade. In the center of the square you can see an equestrian statue of Philip III. The square is a regular meeting point for Madrileños in certain local festivities as well as a venue for markets on certain days of the year.
Walk along Gran Vía Avenue
It is without a doubt the best known avenue in Madrid where you can find the best known shopping centers in the city as well as famous restaurants and fashion centers. Walking along Gran Vía you can see historic buildings such as the Capitol Cinema, Hotel Cibeles and the famous Metropolis building that appears on almost every postcard on this famous avenue.
Tour the Spectacular Retiro Park
It is the largest in the city and consists of large green areas as well as several recreational places that can be used by visitors. Among the most outstanding points of interest we can find a large pond where we can take a boat ride or the Crystal Palace where we can see interesting exhibitions. You can also take a quiet walk and have the opportunity to admire the beautiful sculptures and fountains that you will find while touring the place.
See the Beautiful Doors of Alcalá
It is a great neoclassical construction that has become one of the representative icons of Madrid. It consists of five doors and various reliefs as well as sculptural ornaments such as the children of the four virtues and armor placed at the top.
Let yourself be seduced by the charm of Plaza de Cibeles
It is one of the best known places in Madrid that stands out for a beautiful fountain where you can see a beautiful sculpture of the goddess Cibeles riding a cart pulled by two lions. This square serves as a regular meeting point for important sporting events or national festivities.