Find the best deals in Issy-les-Moulineaux
3.000.000+ hotels, apartments, villas and more…
More than 3.000.000 accommodations
Hotels, Apartments, Vacation Homes, Villas...
Book without any prepayment
No surcharges or hidden costs
No eBooking.com cancellation fee
Cancel or modify your reservation without additional charges according to establishment
TOP HOTELS IN Issy-les-Moulineaux
Book Hotels in Issy-les-Moulineaux
Paris d'Issy - Hôtel Porte de Versailles
4 rue Auguste Gervais
Avg. price/night: 173 EUR
Hotel Izzy by HappyCulture
3 Rue Georges Marie
Avg. price/night: 118 EUR
Novotel Suites Paris Issy les Moulineaux
86 Rue Camille Desmoulins
Avg. price/night: 285 EUR
Luxury
ibis budget Issy Les Moulineaux Paris Ouest
12 rue Jacques Henri Lartigue ZAC Garibaldi
Avg. price/night: 62 EUR
Hôtel Bootcamp by HappyCulture
6 Rue Auguste Gervais
Avg. price/night: 83 EUR
Residhome Paris Issy-les-Moulineaux
22/24 rue du Passeur de Boulogne
Avg. price/night: 314 EUR
Luxury
Aparthotel Adagio Porte de Versailles
16 rue Eliane Jeannin Gareau
Avg. price/night: 207 EUR
Luxury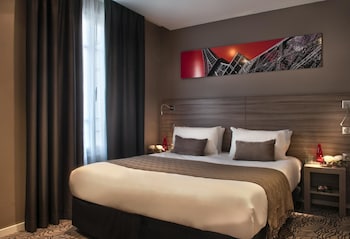 Best Western Paris Porte de Versailles
11 Bis Avenue Jean Jaures
Avg. price/night: 83 EUR
ibis Paris Issy Les Moulineaux Val de Seine
213 Rue Jean Jacques Rousseau
Avg. price/night: 82 EUR
Aéro Club
30 bd. des Frères Voisin
Avg. price/night: 45 EUR
Hôtel Gabriel Issy
32 Rue Des Freres Voisin
Avg. price/night: 154 EUR
Hôtel Luxor
24, Rue Ernest Renan
Avg. price/night: 59 EUR
Discover Issy les Moulineaux: 10 Wonderful Places
Issy les Moulineaux is located in the southwest of the capital, near Paris, on the left bank of the Seine River. This city houses places to enjoy nature with the family, where the San German Park, Town Hall Square, Rodin Park, Botanical Garden and Tower of Figures. Photos of the trip will be beautiful!
Our Lady of the Poor Church provides you with a space to spend a quiet and reflection moment. It's mystical!
If you are a gambling lover, come and visit the French Playing Card Museum, the sample of old cards... will fascinate you. Another entertaining activity in this city is the Boat Tour on the Seine River, a journey that will allow you to detail the surroundings of the city..
While the Financial Center La Défense, you will know a modern place full of outdoor art. It's unique!
Every foodie will love the gastronomy in this city, because here you find dishes based on fish and meat that will make your mouth water. Macaroni and tarte tatin are famous desserts in the region. We also recommend you try the wines, ideal to accompany any meal.
Now, we will detail 10 wonderful places in Issy les Moulineaux.
Venerate the Church of Our Lady of the Poor
The church Our Lady of the Poor is a Catholic temple located on the Boulevard Gallieni in Issy les Moulineaux. In this space you will have the opportunity to enjoy a quiet moment and reflection. When you visit this church you can admire the modern architecture recognized by the Salon de Arte Sacro in 1953, as well as the stained glass windows that stand out for their originality, which were created by the Russian painter and master glassmaker Léon Zack.
Discover the French Naipe Museum
The French Naipe Museum is located in an interesting group of old and new buildings in the Parisian district of Issy les Moulineaux. This place is perfect for lovers of playing cards and tarot. It includes the sample of old cards and games, as well as some other sections on local history and art. Occasionally, they present special events. You're signing it up?
Parque San Germán: Family Place
San Germán Park is ideal for family: children will have fun like never before in different play areas. In this eden you can do different activities such as cycling, having a fun picnic or walking along the variety of trails admiring the atmosphere. The park is surrounded by the Seine River, allowing you to enjoy the contrast of nature and the city. The site is a beauty! with very good settings for selfies .
Visit the Town Hall Square of Issy les Moulineaux
Issy les Moulineaux Town Hall Square is a place you can visit to enjoy the public garden and its surroundings. In this square you will find the entire memorial of the city. The banks and shops that surround it make it more pleasant to be here; its spaces are perfect to relax and admire the views of the place. It's great!
Boat ride along the Seine River
The boat ride on the Seine River is an activity that the whole family will enjoy. During the tour you marvel at the beautiful views of this city. The Eiffel Tower, Notre Dame Cathedral and the different charming gardens are some of the places you see during the tour, you will be fascinated... ah!, the pictures will be beautiful!
Tour Rodin Park in Issy les Moulineaux
Rodin Park is a place where you can take your children quietly, here they will enjoy the play areas, the basketball court, the green areas and the skating park; the fun is guaranteed. While the little ones are recreating, you can walk through the park and enjoy the green areas and panoramic views. It is an essential walk when visiting this city. Selfies will be lovely!
Meet the Botanical Garden
The Botanical Garden is a place with abundant vegetation and tranquility, where you can relax listening to the birds or reading a book. In the upper part of this eden you get a breathtaking view of La Défense. This park has greenhouses that you can visit to enjoy the beautiful plants it houses. You can also take a refreshing walk, sit on the benches and enjoy this haven of peace. Is it worth you?
Tour the La Défense Financial Center
La Défense financial centre is located in the west of Paris and is a brand new business district. Visiting this place you will be amazed with modernity and skyscrapers over 90 m high, are impressive. In addition, this financial center has a water fountain, hanging gardens and sixty works of art that make it an open-air museum. It's a beauty!
Admire the Tower of Figures
The Tower of Figures is a 24 m high sculpture made by architect Antoine Butor and painted by artist Jean Dubuffet. This artwork is located in the park of San German. The interior of the tower can be found on a guided tour and you will enjoy the structure in the form of an ascending labyrinth, distributed on several floors similar to a cave. It's fun!
Enjoy the Gastronomy of Issy les Moulineaux
The gastronomic offer in this city is very varied; here you can find dishes such as steak with vegetables, fish with vegetables, lentils with chorizo and salmon with rice wild; everyone will water your mouth.
Taste cheese fondue with meats and vegetables, as well as raclettes with traditional flavor, it's a semi-cured cheese, everything is delicious!
Pancakes, macaroni and apple pie named tarte tatin, are the most sought after desserts in the region. Try the different wines that this city has, ideal to accompany any meal.
Hotels in the world's top cities