Find the best deals in Dubai
3.000.000+ hotels, apartments, villas and more…
More than 3.000.000 accommodations
Hotels, Apartments, Vacation Homes, Villas...
Book without any prepayment
No surcharges or hidden costs
No eBooking.com cancellation fee
Cancel or modify your reservation without additional charges according to establishment
The 5 Most Popular Places in Dubai
Dubai is an emerging city that forms part of the Arab Emirates and that in recent years has stood out for its modern buildings and impressive constuctions that have gained ground to the desert and part of the sea. If you like shopping, Dubai is one of the best destinations to do so as you can find large shopping malls among which Dubai Mall stands out, one of the largest shopping malls in the world.
Unlike other cities Dubai does not have important historical or cultural sites but attracts many tourists for its impressive buildings, luxury hotels and artificial islands that have become tourist attractions by themselves.
Visit the Stunning Burj Khalifa, Perfect for a Selfie
It is an impressive building considered the highest in the world with a height of 830 meters. For this reason it is common to see many tourists climb to the top and admire the city of Dubai from the observatory located on the 124th floor. It is advisable to buy your ticket in advance as it is a very popular place for having the best views of the city. In front of the building you can admire the famous Dubai Fountain with its beautiful moving water waves accompanied by stunning lighting.
Admire the Luxurious Burj Al Arab
It is a luxury hotel that in itself has become a representative icon of Dubai due to its sail structure and also because it is the only 7 star hotel in the world. This hotel offers the best in services and luxury to its guests with modern limousines and even a private helicopter platform.
Discover the Spectacular Palm Jumeirah
It is a set of artificial islands that together form the appearance of a palm tree (hence its name) and that can be best seen from a helicopter flight. Luxury residences have been built on these artificially formed islands and the impressive Hotel Atlantis, very popular for the water park that is part of its facilities.
Enjoy the Family Ski Dubai
It is a ski centre built in the heart of Dubai where you can practice snow sports such as skiing or snowboarding. Ticket prices are relatively high unlike other similar centers, but it is worth seeing inside this technological marvel created for the fun of visitors in an environment where sun and desert predominate.
Have great fun at Aquaventure
It is the most famous water park in Dubai and is part of the facilities of the Hotel Atlantis located in Palm Jumeirah. The complex has several water attractions such as an impressive slide, complex water pipes where we can slide and a wide beach that is part of this place, being a highly recommended place to visit with the whole family.
The Oberoi
The Oberoi Centre, Business Bay
Avg. price/night: 123 AED
Luxury
Grosvenor House, a Luxury Collection Hotel, Dubai
Al Emreef Street
Avg. price/night: 155 AED
Luxury
Address Dubai Marina
Al Marsa Street, 66 Dubai Marina PO Box 32923
Avg. price/night: 218 AED
Luxury
Raffles Dubai
Sheikh Rashid Road, Wafi
Avg. price/night: 327 AED
Luxury
Nikki Beach Resort & Spa Dubai
Pearl Jumeira
Avg. price/night: 150 AED
Luxury
Waldorf Astoria Dubai Palm Jumeirah
Crescent Road, The Palm Jumeirah
Avg. price/night: 211 AED
Luxury
Jumeirah Al Naseem
King Salman bin Abdulaziz Al Saud PO Box 75157
Avg. price/night: 354 AED
Luxury
Shangri La Hotel Dubai
Sheikh Zayed Road P.o. Box 75880
Avg. price/night: 162 AED
Luxury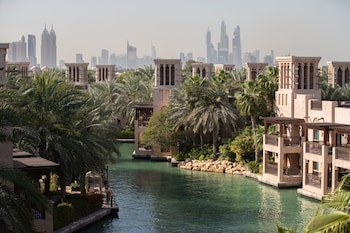 Jumeirah Dar Al Masyaf
King Salman bin Abdulaziz Al Saud PO Box 75157
Avg. price/night: 272 AED
Luxury
Grand Hyatt Dubai
Riyadh Street, Sheikh Rashid Road Dubai Healthcare City
Avg. price/night: 163 AED
Luxury
Le Meridien Dubai Hotel & Conference Centre
Airport Road P O Box 10001
Avg. price/night: 95 AED
Luxury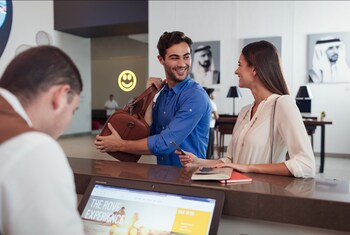 Rove City Centre
24 19b Street Port Saeed
Avg. price/night: 54 AED
Hotels in the world's top cities